YOU ARE INVITED
TO THE CHRISTMAS AUCTION
The bids start at DKK 10,000 per painting for the last 3 works of art regardless of the previous price. The first presented painting starts at DKK 13.000.
send your bid here:
E-mail : info@art-lui.com
SMS: (+45) 22434727
Or use the Contact form
This Christmas promotion is reserved exclusively for all Newsletter subscribers.
You can send your bid until 11 December 2023 at 20.00 2023
You will be notified directly by email if your bid is outbid and you can bid again.
If you are the lucky bidder, you will receive your artwork as soon as possible with Postnord or direct shipping, all at Art-Lui's expense.
You can bid on the following works until 11th December 2023
They can all be found in the Webshop under paintings and the starting bid for all artworks in the Christmas auction is DKK 10,000 per painting, independent of the original Webshop gallery price. near the first where the starting bid is DKK 13.000.
Bid interval minimum is DKK 200. Send your bid via email info@art-lui.com and in the event of an overbid, you will be notified immediately via e-mail.
Painting "Appelgirl in the flames of Love" 150 x 90 cm – Gallery price DKK 30.000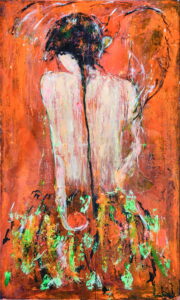 Painting: come along on a journey 120 x 60cm – Gallery price DKK 19.000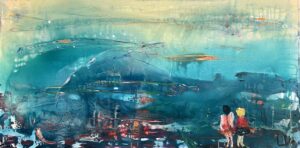 Painting: Applegirl in wonderland – 120 x 90 cm – Gallery price DKK 22.000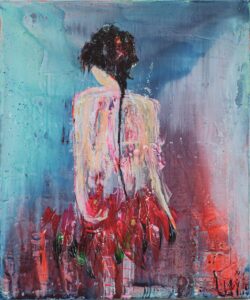 Painting: Sisters for Life – 100 x 100 cm – Gallery price DKK 20.000