Description
Inner Bliss 60 x 30 cm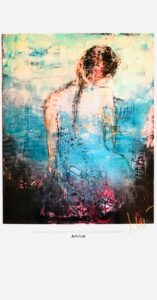 Jeg har fundet mine sidste kunst tryk frem som skulle være til en forårs
udstilling, men pga. Corona krisen sælger jeg dem her
nu. Du har nu den ekstraordinære mulighed for at bestille et originalt kunst tryk af Art-Lui. Disse er af begrænset varelager, netop fordi der kun er blevet trykt 100 af hvert enkelt værk i de repræsenterede størrelser. Denne gang har jeg max 8 tryk af hver.
Hver og ét er trykt af 2 omgange for at få Lui's signering forsejlet, og for at give udtrykket det helt særlige "Lui" kendetegn med en høj blank finish overflade.
You now have the extraordinary opportunity to order an original art print by Art-Lui. These are of limited inventory, precisely because only 100 of each work has been printed in the represented sizes.
Each one is printed twice to get Lui's signature sealed and to give the expression the very special "Lui" signature with a high gloss finish surface.