Sold Out!
500kr
SOUL PRAYER 30 X 30 CM Kunst Tryk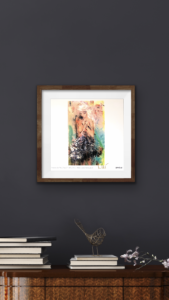 En anden vigtig kilde for mig i mit skabende arbejde, er min "Soul Prayer Woman". Hun inspirerer mig stadigvæk. Historien bag Soul Prayer er en historie om at overvinde dybe sår, bede om beskyttelse og tilgive alt for at finde dyb indre fred, klarhed og indsigt. Maleriet blev skabt efter en transformerende rejse til Barcelona tilbage i 2014. Hun symboliserer en beskyttelse mod os selv og udrensning. Dyb indre kærlighed til os selv. Farverne i Soul Prayer er meget healende. Både valg af farver, udtryk og titlen symboliserer et kald fra vores sjæl. Det er tid til indre refleksion og tid til at skabe tillid til vores intuition og følge vores inderste instinkter og drømme.
Jeg har fundet mine sidste kunst tryk frem som skulle være til en forårs
udstilling, men pga. Corona krisen sælger jeg dem her
nu. Du har nu den ekstraordinære mulighed for at bestille et originalt kunst tryk af Art-Lui. Disse er af begrænset varelager, netop fordi der kun er blevet trykt 100 af hvert enkelt værk i de repræsenterede størrelser. Du kan reservere bestille Soul Prayer i str 60 x 30. DE BLIVER FRAGTET I RØR, således de fragtes hele vejen hjem til dig trygt og sikkert.
Hver og ét er trykt af 2 omgange for at få Lui's signering forsejlet, og for at give udtrykket det helt særlige "Lui" kendetegn med en høj blank finish overflade.
You now have the extraordinary opportunity to order an original art print by Art-Lui. These are of limited inventory, precisely because only 100 of each work has been printed in the represented sizes.
Each one is printed twice to get Lui's signature sealed and to give the expression the very special "Lui" signature with a high gloss finish surface.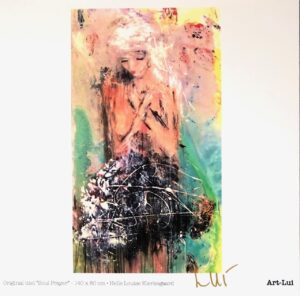 This painting is sold