Kære
"Jeg åbner op for skabelsen af personlige "sjælemalerier" igen.
Det er et sjælekald. Jeg har været igennem flere store tunge tab ved død og afsked de sidste 3 mdr som indbyder til et flow af ny dybde og indsigt og derfor vil jeg gerne åbne Efteråret og Vinteren som i øvrigt er mine ynglings årstider.
Jeg ønsker at give dig muligheden for at bestille dit personlige maleri og hvis du bestiller inden 1.NOV 2022 kan du få 25. % i Rabat.
Dette er et enestående tilbud.
Maleriet herunder er et af mine nye personlige Sjælemalerier malerier som jeg har fået lov til at offentliggøre.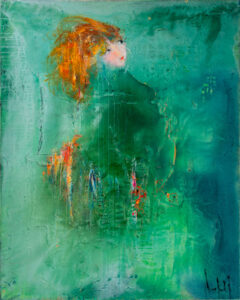 Du er velkommen til at kontakte Helle Louise direkte ved spørgsmål og booke et uforpligtende telefonmøde :22434727
Mail: info@art-lui.com
ENGLISH VERSION:
Dearest  You❤️ "I open up the creation of personal "soul paintings" again.
It is a calling of the soul.  I have been through several big heavy losses due to death and parting in the last 3 months which invite a flow of new depth and insight and therefore I would like to open the Autumn and Winter which are, by the way, the seasons of my youth.
 I want to give you the opportunity to order your personal painting and if you order before NOV 1 2022 you can get a 25% discount.  This is a unique offer.
 The painting below is one of my new personal Soul Paintings paintings that I have been allowed to publish. Read more